Novotel Saigon Center is a 4 star hotel Saigon that located right in the center of Ho Chi Minh City. Because it is located in the city, of course, this hotel is not far from the hustle and bustle of the city. Even so, this hotel is fairly comfortable and safe for guests staying. The hotel offers easy access to shopping centers and other entertainment areas that guests can enjoy. Some of the cultural and historical tourist attractions that can be easily reached from this hotel are the Notre-Dame Basilica, Saigon Opera House, and War Remnants Museum. Everything can be reached by just walking.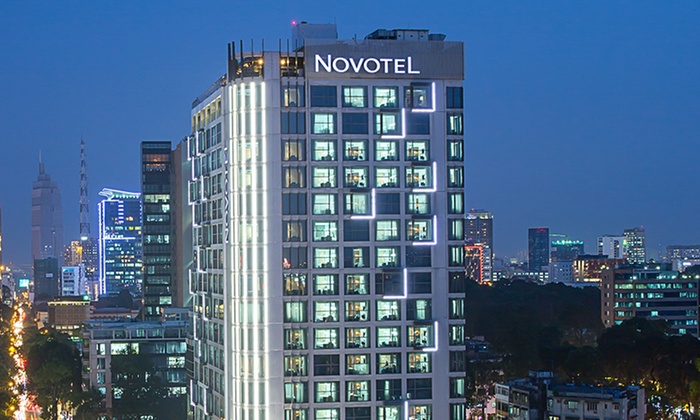 Novotel Saigon Center has a choice of 247 rooms with beautiful city views. All rooms have a flat-screen TV, personal safe for your valuables, and a minibar. There are four types of rooms this hotel offers. Some rooms have more facilities such as an espresso machine and an iPod dock. For easier internet access, there is free Wi-Fi throughout the hotel, and a cable connection is also available for those of you who need it.
Like hotels in general, restaurants are also available here. The hotel restaurant carries the concept of Square international buffet, which serves exceptional Asian and Western cuisine every day. You can enjoy and choose foods according to taste. This hotel also has the Topbar on the roof that can give a romantic impression. Located on the rooftop, this bar certainly has a beautiful view of the Ho Chi Minh City skyline. Last but not least, there is also a Premier Lounge provided for guests staying in the main rooms. They will enjoy an exclusive breakfast, all-day drinks, and evening cocktails with a relaxed atmosphere.
Another facility you can get is Inbalance Spa. You can visit the spa to enjoy a relaxing massage. This hotel also has a fitness center for those who want to stay in shape and burn calories while at the hotel. Moreover, if you're going to swim, you can visit the hotel's outdoor swimming pool.
This 4-star hotel in Saigon is the right choice for you who come with a family, partner, or business. For meetings and weddings, the Novotel Saigon Center provides a special room and can meet your needs. The hotel is very suitable for foreign tourists because it is only 6 km from the airport, making this hotel easily accessible.